Domaine De La Mongestine - Bob Singlar Rosé BIO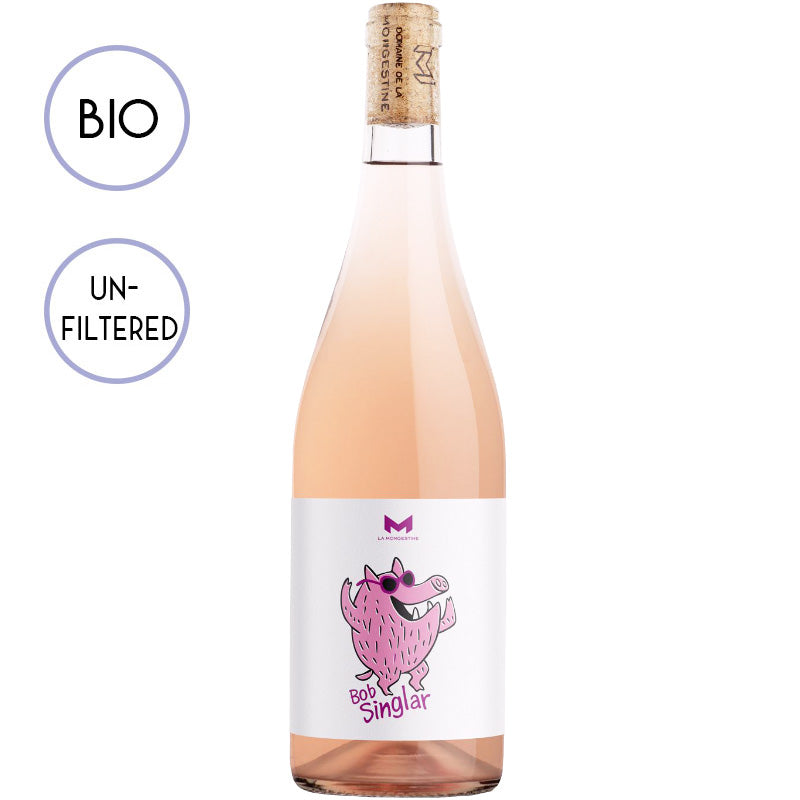 From: Domaine De La Mongestine
€12,90
€17,20 / Liter
All Prices include VAT - Shipping fees may apply
Domaine De La Mongestine - Bob Singlar Rosé BIO
In the heart of the Provence-Verdon region, near the village of Artigues (north east of Aix-en-Provence), the Domaine De La Mongestine estate stretches over a long hillside of 40 ha, surrounded by forests, with a total area of 120 ha and culminating at 450 m altitude. The altitude coupled with the northern exposure creates a unique microclimate in Provence. In summer, the nights are cool and the days sunny and warm. Winter is cold and harsh. These parameters provide a climate that is more northern than it's actual location.
Their biodynamic farming practices allow the estate to strengthen the natural vigor of the vines. A healthy and living grape (with its population of natural yeasts) enables a natural vinification.
This unfiltered Rosé with minimal Sulfites, in some vintages no Sulfites at all is special. In your nose this wine is fruity, lively with citrus aromas and Mirabelle Plum nuances. On the palate, the Rosé is lively and refreshing, with a nice acidity. The fruity aromas extend into a long finish. A great Natural Wine from the Provence that is fun and delicious and with an incredible fair price value.
Taste: Dry
Style: Unfiltered
Cultivation: Bio / Organic / Demeter
Country: France
Region: Provence
Year: 2022
Grape: Merlot, Rolle (Vermentino)
Alcohol: 12 % vol
Residual Sugar: 0,0 g / liter
Bottle Size: 0.75 l
Recommended Serving Temperature: 8-12 °C
Allergies: Contains Sulfites
Bottled by: 
Domaine de la Mongestine
RD 561
83560 Artigues
France